Need Help?
If you can't find what you're looking for, please contact our sales team
Phone: +36 1 2361-104
Fax: +36 1 2361-101
Email: info­@­emb.hu

Use EMB Radio to stream excerpts of our publications. If a piece catches your ear, just click on the scrolling banner to be redirected to its product page.
Music for Hire
Our hire library contains hundreds of works, particularly 20th-century and contemporary Hungarian music for orchestra and chamber ensemble, available to both professional and amateurs for hire.
Browse the online catalogue and send an enquiry straight to the hire library for your chosen work.
Performance materials are despatched to orchestras all over the world, either direct from our warehouse in Budapest, or via one of our representatives.
The printed 'Music for Hire' catalogue is available from our representatives or you can download it by clicking here .
Zinfonia
EMB has recently joined to Zinfonia.
Zinfonia combines information direct from many of the world's largest classical hire/rental and sale catalogues into one place.

Registered* Zinfonia users can:
Quickly locate and display information and links for thousands of composers, titles and publishers
Communicate directly with your local distributor to ask questions, receive quotes or to place and order
Use the My Catalogue section to keep the results of your searches together in one place
Keep all of your orders together and receive automatic status updates direct from Zinfonia Connect publisher systems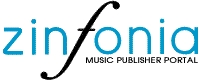 New works for hire
| | |
| --- | --- |
| | |
| String Orchestra | Violoncello and various instruments |
| | |
| Orchestra | Flute |
| | |
| | Mixed Voices and Accompaniment |