Need Help?
If you can't find what you're looking for, please contact our sales team
Phone: +36 1 2361-104
Fax: +36 1 2361-101
Email: info­@­emb.hu
Use EMB Radio to stream excerpts of our publications. If a piece catches your ear, just click on the scrolling banner to be redirected to its product page.

WE ARE MOVING
Our new seat from 1st August: H-1146 Budapest, Hermina út 17. Building B, 8th floor
Gergely Vajda's Bartók-Pásztory Award
Gergely Vajda composer, conductor has been awarded the prestigious Bartók-Pásztory Prize of 2018, donated by the Budapest Music Academy.
Gergely Vajda's quintet for clarinet and strings, Alice études, inspired by Lewis Carroll's books, has recently appeared in our catalogue.
 Two stage works of the 
composer will be performed in the following months: his opera Barbie Blue will have a concert performance on June 5 in Budapest, and his puppet opera The Giant Baby will be premiered at the Armel Festival on 3 July in Vienna and then, on 7 July in Budapest.
Kurtág – Cuendet: Games for ensemble has been published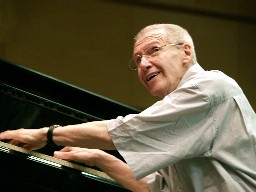 György Kurtág has barely written instrumental works for chamber ensemble, a formation otherwise favored by contemporary composers. Hence, the arrangements of the Swiss composer-conductor Olivier Cuendet from Kurtág's emblematic collection for piano, Games, represent a significant enrichment of the repertoire. The sequence of 34 pieces can be performed consecutively as an inherent cycle or in different combinations. "The selection is highly subjective – writes Cuendet –, some pieces sounded orchestral already to me when I played them on the piano, others spoke to me through their simplicity or complexity." These arrangements, authorized by Kurtág, use a flexible orchestration whose range reaches from 4-5 instruments up to a full ensemble of ca 15 musicians.
Announcement
Universal Music Publishing Group is pleased to announce that the printed music publishing and distribution business of its Hungarian affiliate Universal Music Publishing Editio Musica Budapest Zeneműkiadó Kft. has been transferred to a new entity, Editio Musica Budapest Zeneműkiadó Kft. EMBZ will be owned and managed by a group led by UMPEMB Director of Printed Music László Sigrai. Long-time UMPEMB Managing Director Antal Boronkay will also participate in the direction of EMBZ.
EMBZ will distribute all existing UMPEMB printed music products, and will work closely with UMPEMB to continue to develop new high-quality printed music products in both physical and digital form for the educational and performance markets. EMBZ will also continue to distribute sheet music products of other publishers.
For information, please contact:
For UMPG: Tünde Szitha, szitha­@­emb.hu, www.umpemb.com

For EMBZ: László Sigrai, sigrai­@­emb.hu, www.emb.hu
The well awaited 9th volume of GAMES by György Kurtág is published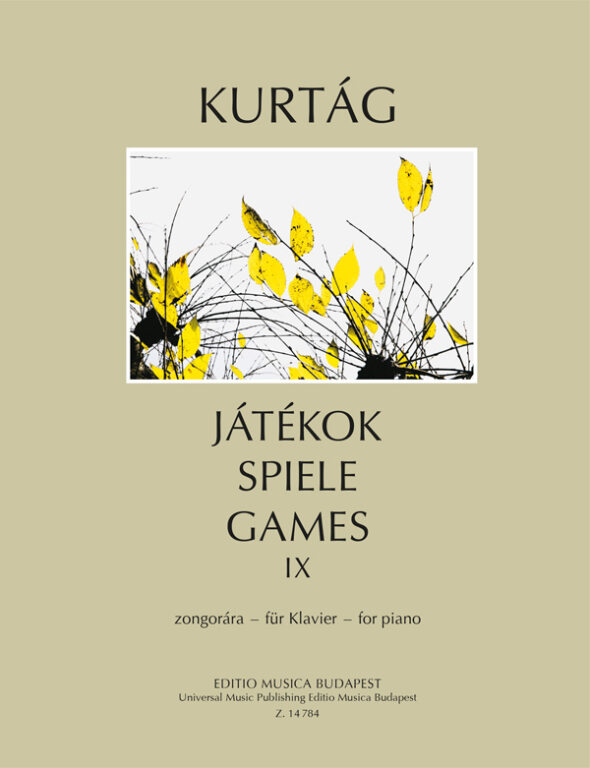 The piano series entitled Games, written from 1973 onwards, was conceived originally as a piano method. Its early volumes introduced children to the basic elements in piano-playing and musical thinking, and, more importantly still, taught them to play music without inhibitions. As the years went by, the view of the series lost its didactic character. It came to be seen as a document from Kurtág's workshop, offering a key to his grander symphonic, chamber and vocal works as well. This change is exemplified in the subtitle Diary entries, personal messages added from the fifth volume onwards.
The pieces in the ninth volume date from 1989‒2009, except the youthful Apple blossom, written in 1947. The movements, often aphoristic in their briefness, conceal associations with various aspects of European music history. Many of them are hommage or in memoriam pieces, or subjective personal messages to friends, colleagues, beloved family members or students, and thereby to all music-loving people.
Works by Kurtág, Eötvös and young Hungarian composers in Zürich
The beginning of Máté Balogh's, Máté Bella's, Péter Tornyai's and Balázs Horváth's musical career is in many ways tied to Péter Eötvös, who was their driving force in the past few years. It is therefore no surprise that the majority of the programme of the Peter Eötvös Contemporary Music Foundation's (which Eötvös founded in 2004) concert in Zurich on 26 June consists of works composed between 2010 and 2016 by these young composers. Jam Quartet by Máté Balogh, Chuang Tzu's Dream by Máté Bella, QuatreQuatuors by Péter Tornyai will be performed for the first time in Switzerland, pikokosmos = millikosmos by Balázs Horváth will be premiered in Zurich. The audience in the Tonhalle will hear the music of three generations. Apart from the Swiss premiere of Eötvös's da capo (Mit Fragmenten aus W. A. Mozart's Fragmenten), Kurtág's Brefs Messages will also be performed. The program is conducted by Eötvös himself, performed by the THReNSeMBle, the ensemble of the Contemporary Music Foundation.
Premieres in Frankfurt – The Works of László Tihanyi and Gergely Vajda
The Frankfurt Radio Symphony will perform a program of Hungarian compositions on 5th May. The title of the concert is 'Eötvös' Ungarn', and it is a part of the three year cooperation in which Péter Eötvös participates as curator in the work of the orchestra. The programme includes József Sári's 
Concertino
 for orchestra,
 Levitatio
n for two clarinets, accordion and strings by Péter Eötvös, 
Passacaglie
 for viola and orchestra by László Tihanyi and 
Drums Drums Drums
 for timpani, drumset, bass drum and orchestra by Gergely Vajda. The last two works were recently published by Editio Musica Budapest. Vajda Gergely is a part of the programme not only as a composer, but he is also going to make his debut as conductor with the Frankfurt Radio Symphony. The concert is going to be recorded and broadcast by Radio Hr2 on 16 May 2017.