Need Help?
If you can't find what you're looking for, please contact our sales team
Phone: +36 1 2361-104
Email: info­@­emb.hu
Contemporary music, rental, rights management:

Kocsár: Chaconne per archi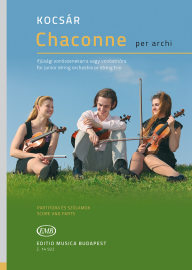 Kocsár composed the Chaconne for three-part string ensemble in 1996. Originally a popular Baroque musical form, the chaconne is characterized by a set of ground-bass variations. In Kocsár's piece the 23-bar theme is followed by nine variations of diverse characters. The composition lasts about nine minutes and is rounded off with a recapitulation of the theme and a coda.
The Chaconne can be performed by junior string orchestras consisting of either two violins and a violoncello or a violin, a viola, and a violoncello (with or without double bass), or by string trios consisting of two violins and violoncello or a violin, a viola and a violoncello.
The edition includes a full score and one part for each instrument. If the work is performed by a string orchestra the parts may be copied as required for the number of musicians.