Need Help?
If you can't find what you're looking for, please contact our sales team
Phone: +36 1 2361-104
Email: info­@­emb.hu
Contemporary music, rental, rights management:
Dobrodošli!
V kolikor ne morete zapreti tega okvira, verjetno v vašem brskalniku nimate omogočenih
Za vključitev
String Orchestra
Kocsár: Chaconne per archi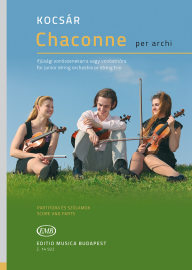 Kocsár composed the Chaconne for three-part string ensemble in 1996. Originally a popular Baroque musical form, the chaconne is characterized by a set of ground-bass variations. In Kocsár's piece the 23-bar theme is followed by nine variations of diverse characters. The composition lasts about nine minutes and is rounded off with a recapitulation of the theme and a coda.
The Chaconne can be performed by junior string orchestras consisting of either two violins and a violoncello or a violin, a viola, and a violoncello (with or without double bass), or by string trios consisting of two violins and violoncello or a violin, a viola and a violoncello.
The edition includes a full score and one part for each instrument. If the work is performed by a string orchestra the parts may be copied as required for the number of musicians.
Leggierissimo
Modeled on the popular Leggiero series, Leggierissimo was launched with music schools' youngest string players in mind. In these very easy pieces for string orchestra, a third violin part replaces the viola. Everything is in the first position, so even after just a few years of instrumental study children can experience the pleasure of orchestral playing. Most of the volumes published so far were compiled by András Soós and László Zempléni, partly as composers of original works and arrangements, partly as transcribers of works (mainly for piano) by the greatest masters (Händel, Haydn, Beethoven, Schubert, Tchaikovsky). Every volume appears in the form of a folder, containing both the score and the individual parts.
Leggiero
EMB's Leggiero series is partly a reprint and partly a renewed edition of its forerunner, the widely known and played series "Works for Youth Orchestra". It is a collection made from the most successful volumes comprising works by classical and contemporary composers and the easy arrangements of popular piano works with a new layout and attractive design. This series is ideal for for junior string orchestras because the works can also be performed with a third violin part instead of viola. The arrangements offer full musical value and were made by outstanding Hungarian music teachers and composers. Each volume appears in the form of a folder and includes the score and ample parts for an average-sized orchestra.