Need Help?
If you can't find what you're looking for, please contact our sales team
Phone: +36 1 2361-104
Email: info­@­emb.hu
Contemporary music, rental, rights management:
Use EMB Radio to stream excerpts of our publications. If a piece catches your ear, just click on the scrolling banner to be redirected to its product page.

Publishing Árpád Pejtsik's scores for teaching chamber music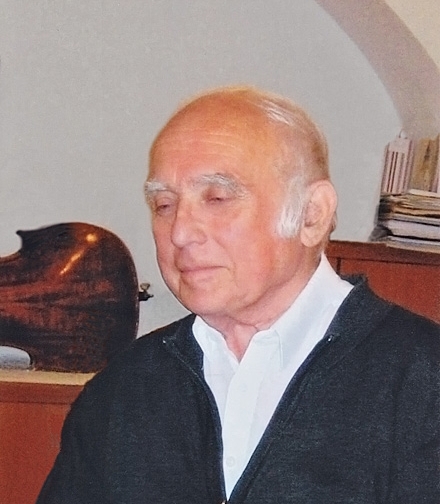 Árpád Pejtsik's name is familiar to all who learned or taught the cello in recent decades. Hitherto Editio Musica Budapest has issued over a hundred of his works, some expressly for teaching and some to broaden the repertoire available for performance. The scores sold well all over the world and were used internationally for examining material.
Pejtsik, well known as a music teacher, was born in 1935 into a family with a penchant for chamber music. He first took up an instrument at the behest of a father who longed to have his son learn cello. He played in the orchestra of the Budapest Opera for 33  years, while teaching throughout. He sought consciously and found the niche in which he could be best, coupling instrumental and composing knowledge with a flare for teaching and familiarity with a vast repertoire gained over decades of collection and annotation.
Pejtsik studied under Ede Banda, Sándor Sebestyén and Miklós Zsámboki, the last third himself a pupil of Dávid Popper, whose school Pejtsik both followed up and inherited.
Why is it important for string players to cultivate chamber music from the earliest age?
Clear intonation can be learned far more easily and quickly in relation to another part. The harmonic experience (which can be self-created by a pianist or a guitarist) has importance, as has recognition of the broadest realm of sound. A teacher and pupil playing together do more than deepen that master/pupil relationship. It marks the first step toward learning to work, create, and interact with another musician.
Pejtsik began to teach chamber playing with his Violoncello ABC (Z.14177), intended for beginners, and continued it in a second and third volume (Z.14311 and Z.14730). These three provide material for the first four-and-a-half to five years of instrumental teaching. In the author's view, all teachers build up over the years an idea of what they wish to attain and how they wish to attain it. His tutorial has no intention of persuading people to change their ideas, only of offering attractive musical material to accomplish them.
The four books of Chamber Music Method for Strings introduce stringed instrument pupils step by step to the art and craft of chamber musicianship, through a kind of four-century cross-section of such string music. Apart from assembling the material, he gave general advice on each volume and specific guidance on the technical accomplishment of each piece. These set out to show those who were learning or had learned such music how chamber music is no preserve of concert musicians: making music together is an unspeakable joy even after two or three years of learning an instrument.
Volume I offers easily played trios for two violins and a cello, ranging in date from the Renaissance to Viennese Classicism. In some the second violin and some the cello part can also be played on viola. All melodies are playable in the first position, making them feasible even after two years of tuition. (Easy Trios from Four Centuries, Z.13548)
Volume II teaches the important types of Baroque trio sonata through works by Vivaldi, Corelli, Albinoni, F. Couperin, Purcell, and J. S. Bach. The violin parts do not exceed the third position, nor the cello part the fourth. (The Baroque Trio Sonata, Z. 13549)
Volume III presents the string trio literature of Viennese Classicism. Works by Haydn, Mozart and Beethoven are joined by some from lesser known composers. They are on much the same degree of difficulty as those in Volume II. (The Classical Trio, Z.13550)
Volume IV introduces the most refined genre of chamber music: the Viennese Classical string quartets. Some of them somewhat exceed the range and technical requirements of the previous volume, but the effort required is rewarded by their beauty. (Easy Classical String Quartets, Z.13551)
The author, based on his music-school experience,  saw a need, beyond his tutorial, for chamber-music publications to impart a sense of success even after learning a musical instrument only for a few years. It is difficult to persuade children today to look forward to satisfying knowledge only after five or six years of practice and learning. So Pejtsik compiled several volumes for Editio Musica Budapest's popular Music for Beginners series containing pieces that work within the first position and give pleasure to pupils after a mere two years of tuition in their instrument. These contain Classical Piano Trios (Z.14274), Classical String Quartets (Z.14109), Romantic Piano Trios (Z.14339), Romantic String Quartets (Z.14161), and Music for Piano Quartet (Z.14253).
The wide range of the cello allows three or four instruments in various pitches to give out a full chamber-music sound. Initially only cellist composers availed themselves of this, but their pieces began to be joined in the nineteenth century by several transcriptions for cello. This tradition is followed in the series Chamber Music for Violoncellos compiled by Pejtsik, who himself prepared most of the transcriptions. Since the cello has a range almost identical with the singing voice, from lowest bass to coloratura soprano, the series includes several fine transcriptions of choral works. The compiler, in making his selection, scanned various periods of music history to find bright, varied music to play in each of the volumes. Some of the parts are easy to play, so that even players less conversant with their instrument may contribute to joint music making. So far 16 volumes of the series have appeared.
(Tables of contents for the publications and specimen pages from them can be found on the Web at www.emb.hu.)
Márton Kerékfy – Editor-in-Chief
László Sigrai – Director of Printed Music
Editio Musica Budapest
18 April 2016