Need Help?
If you can't find what you're looking for, please contact our sales team
Phone: +36 1 2361-104
Email: info­@­emb.hu
Contemporary music, rental, rights management:

New Urtext edition of Bartók's complete choral works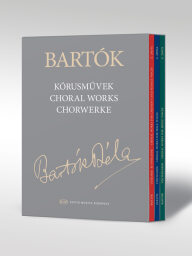 A new Urtext edition of Béla Bartók's complete choral works was launched in March 2021. The three-volume edition is based on volume 9 of the Béla Bartók Complete Critical Edition (Z. 15009), a joint publication of G. Henle Verlag, Munich, and Editio Musica Budapest Zeneműkiadó. The lyrics in this edition are in the original languages and in the translations authorized by the composer. Literal English translations are provided in the appendix, which also includes early and alternative versions of the works.
Our edition is distinguished by absolute authenticity regarding both the musical text and the style of notation, as well as superior engraving and print quality. The edition is complete with informative prefaces (in Hungarian, English, and German) and detailed Editorial Comments (in Hungarian and English). The Comments give an overview of the textual, folk-music, and compositional sources, and provide detailed information on the performance practice of Bartók's choral works.
The volumes have been printed on high-quality and environmentally-friendly paper.
The three volumes are available in two formats: paperback and clothbound. The paperback editions can be bought separately, while the clothbound volumes are available only together in a slipcase.
Each work included in these volumes will also be published separately during the following months.