Chamber Music for Winds
| | |
| --- | --- |
| | |
| Chamber Music for Woodwind Ensemble | Wind Quintet |
| | |
| Wind Quintet | Chamber Music for Woodwind Ensemble |
Essential Elements
| | |
| --- | --- |
| | |
| Saxophone (tenor) | |
| | |
| Clarinet | Baritone |
Band Music - news, works, events
Music with Chequered Ears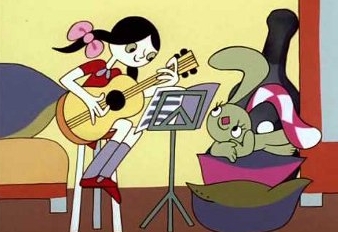 Television viewers of nearly a hundred countries have experienced Árpád Balázs's touching melodies. The series of
cartoons
have neither dialogue nor text: the music presents the amiable and entertaining adventures of the rabbit with chequered ears and its friends. Balázs has rephrased and developed the well-known melodies and as a result a
''children's story symphony''
of seven movements has been created in which, in contrast with Prokofiev's Peter and the Wolf, there is no narrator but the instruments themselves represent the story-tellers. The composer has again associated the groups of instruments with one another in a colourful and varied manner, skilfully alternating the modes of solo, chamber orchestra and orchestra. Movements I, II, IV and VII represent a ''short suite'' that can be independently performed, thus due to its duration of four minutes and easier level, ensembles with more modest opportunities can also perform it. The most well-known parts of the cartoon series music - the main title and the ending - are included in both versions.
Hungarian Rondo
The Hungarian Rondo by Árpád Balázs is cheerful, good-humoured music, a finely formed work crafted withgreat professional skill.
Its structure is clear: the double recurrence of the rondo theme results in a five-part form. The two episodes differ in character. The first consists of increasingly densely woven imitations that chase eachother playfully; the second evokes the mood of bagpipe tunes. In the latter, above the melody moving evenly incrotchets in the middle parts a pastel-tinted cloud of woodwind notes floats upwards, while the sound is extended downwards by the deep-toned brass stepping lower by semitones. A brilliant device by the composer! In thecourse of its repeats the rondo theme appears more and more richly garbed; particularly the sparkling semiquavers of the woodwind make it ever more decorative.
The Hungarian Rondo is the kind of music that drives your cares away.
New concert band publications
We have pleasure in introducing the new volumes of the EMB Concert Band Series, featuring works by István Bogár, László Dubrovay, Antal Farkas and Kamilló Lendvay, among others.

Concert Band Series: scores and parts
Pieces for level 2-3-4-5-6
| | |
| --- | --- |
| | |
| Concert Band | Concert Band |
| | |
| Concert Band | Concert Band |
| | |
| Concert Band | Concert Band |
| | |
| Concert Band | Concert Band |
| | |
| Concert Band | Concert Band |
| | |
| Concert Band | Concert Band |
| | |
| Concert Band | Concert Band |
| | |
| Concert Band | Concert Band |
| | |
| Concert Band | Concert Band |
| | |
| Concert Band | Concert Band |
| | |
| Concert Band | Concert Band |
| | |
| Symphonic Wind Band | |
Old Concert Band Series
works published in the '80s
| | |
| --- | --- |
| | |
| Concert Band | Concert Band |
| | |
| Concert Band | Concert Band |
| | |
| Concert Band | Concert Band |
| | |
| Concert Band | Concert Band |
| | |
| Concert Band | Concert Band |
| | |
| Concert Band | Concert Band |
| | |
| Concert Band | Concert Band |
| | |
| Concert Band | Concert Band |
| | |
| Concert Band | |