Need Help?
If you can't find what you're looking for, please contact our sales team
Phone: +36 1 2361-104
Email: info­@­emb.hu
Contemporary music, rental, rights management:

Virtual Musikmesse Publication Display
April 6, 2020
Due to the many travel restrictions that are currently in place, Musikmesse Frankfurt 2020 has been canceled. As a result, we will not have the opportunity to present our newest publications in person as we normally would.
While this is unfortunate, worry not! We are working in close cooperation with our network of partners and music shop owners to make our new releases available to you as quickly and easily as possible.
As always, check here for the latest updates on our most recent publications - think of it as our virtual exhibition booth.
We will continue servicing all orders and doing all that we can to put great scores in your hands.
To our most valued customers:
March 16, 2020
As all of us worldwide strive to adapt to the challenges of life at home, the comfort and relief that music provides have become all the more important to our daily routines.
While live concerts and face-to-face music instruction are not currently recommended, being at home presents the opportunity for us to slow down, listen to more music, and focus on individual practice for a time.
We at EMBZ will continue doing our part to support these goals. We know that the health and safety of you and your loved ones is the top priority right now, but we will continue to process and ship all incoming orders via our webshop so that you can keep getting the sheet music that you love.
In the meantime: keep playing, keep singing, and keep listening. Thank you for being a part of our global community of musicians, and may you find joy and peace in music during these uncertain times.
Warm regards,
László Sigrai
Managing Director
Select EMB Publications Now Available on GVIDO Score Store
October 1, 2019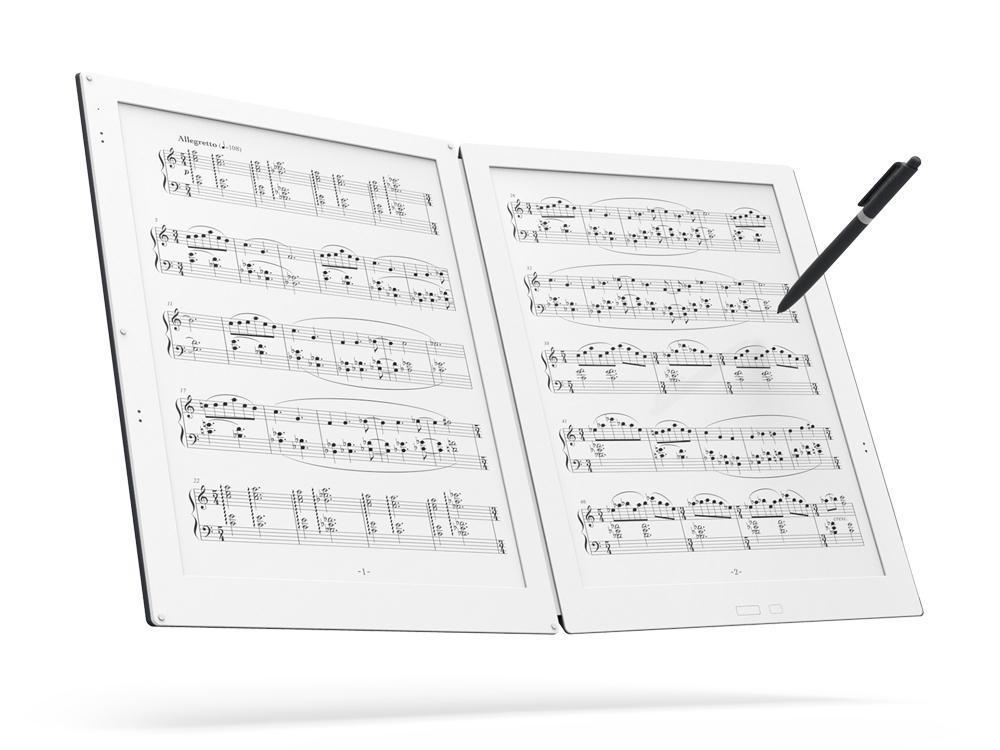 On October 1, 2019, Editio Musica Budapest Zeneműkiadó marked the occasion of World Music Day by joining the GVIDO digital music score display system.
Using digital paper display technology on a device comprised of  two large, connected screens, GVIDO allows users to view digital music scores in a way like never before. 
The system works through an online music store that allows users to purchase and download high-quality musical scores which can be organized into digital lists and notated using a special pen exclusive to GVIDO's device. Pages can be turned by touch or using a blue-tooth pedal, and the two screens allow for different page-turning modes.
The GVIDO store offers an ever-expanding selection of sheet music from many music publishers around the world. GVIDO equipment and accessories (leather case, page-turning pedal) can be also ordered from our publishing office.
EMB to Attend Music China 2019 in Shanghai
September 16, 2019
Thousands of visitors from all over the world are expected to attend Music China 2019, and Editio Musica Budapest is happy to return to Shanghai this year from October 10−13.
We will present the best of our publications, both bestsellers and new editions, at our booth in hall E5 stand G21.
We hope to see you at this fantastic musical event!
Announcing the release of Zoltán Kodály: Choral Works for Mixed Voices
December 14, 2018
Editio Musica Budapest is proud to announce the release of the extended and revised edition of Zoltán Kodály: Choral Works for Mixed Voices.
Seventy-five years after their first release, the time has come for Kodály's collected choral works for mixed voices to appear in a completely new, expanded edition. This collection contains six compositions that were not included in earlier editions. It is printed in a slightly larger format than previous editions and is available in a hardcover version as well as a softcover version for practical purposes. We whole-heartedly recommend the canvas-bound edition to libraries, collectors, and Kodály enthusiasts alike.
 This is the most complete and most authentic collection of Kodály's mixed choruses to date, and it contains new easily-legible music scores and an informative epilogue written by Péter Erdei.
More information on the publications can be found here.
Critical Reconstruction of Liszt's Opera Sardanapalo Will Be Published
March 26, 2018
In 1845 Franz Liszt embarked on a project to compose an Italian opera based on Lord Byron's tragedy, Sardanapalus (1821). It was central to his ambition to attain status as a great European composer. But he abandoned it half way through, and the music he completed has lain silently for 170 years. Editio Musica Budapest will shortly publish the first edition of this score, edited and critically reconstructed by David Trippett (University of Cambridge). Read more...
Announcement
September 20, 2017
Universal Music Publishing Group is pleased to announce that the printed music publishing and distribution business of its Hungarian affiliate Universal Music Publishing Editio Musica Budapest Zeneműkiadó Kft. has been transferred to a new entity, Editio Musica Budapest Zeneműkiadó Kft. EMBZ will be owned and managed by a group led by UMPEMB Director of Printed Music László Sigrai. Long-time UMPEMB Managing Director Antal Boronkay will also participate in the direction of EMBZ.
EMBZ will distribute all existing UMPEMB printed music products, and will work closely with UMPEMB to continue to develop new high-quality printed music products in both physical and digital form for the educational and performance markets. EMBZ will also continue to distribute sheet music products of other publishers.
For information, please contact:
For EMBZ: László Sigrai, sigrai­@­emb.hu, www.emb.hu
For UMPG: Tünde Szitha, szitha­@­emb.hu, www.umpemb.com
EMBrace music
March 24, 2015
Embrace Music — That is the motto we have adopted this year. In other words, we want to help you to make music an integral part of your life.
Music is all around us these days; it stimulates us more intensely and prevalently than ever before. But do we relate to it passively or actively? Are we merely consumers or makers of music as well?
We at EMB know that making music brings joy. That joy is multiplied and shared by playing to others. What's more, making music develops individual values, such as concentration, openness, sensitivity, collaboration, and concern for others.
Our aim is to allow as many people of all ages to experience the wonder and value of music.