Potrzebujesz pomocy?
Jeśli nie możesz znaleźć interesującego Cię tytułu, skontaktuj się z nami
Telefon: +36 1 2361-104
Email: info­@­emb.hu

Tel./faks +48 12 422 73 28
Email: import­@­pwm.com.pl
New Urtext edition of Bartók's complete choral works
11 marca 2021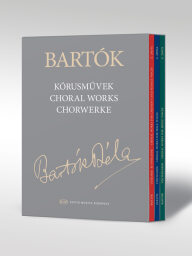 A new Urtext edition of Béla Bartók's complete choral works was launched in March 2021. The three-volume edition is based on volume 9 of the Béla Bartók Complete Critical Edition (Z. 15009), a joint publication of G. Henle Verlag, Munich, and Editio Musica Budapest Zeneműkiadó. The lyrics in this edition are in the original languages and in the translations authorized by the composer. Literal English translations are provided in the appendix, which also includes early and alternative versions of the works.
Our edition is distinguished by absolute authenticity regarding both the musical text and the style of notation, as well as superior engraving and print quality. The edition is complete with informative prefaces (in Hungarian, English, and German) and detailed Editorial Comments (in Hungarian and English). The Comments give an overview of the textual, folk-music, and compositional sources, and provide detailed information on the performance practice of Bartók's choral works.
The volumes have been printed on high-quality and environmentally-friendly paper.
The three volumes are available in two formats: paperback and clothbound. The paperback editions can be bought separately, while the clothbound volumes are available only together in a slipcase.
Each work included in these volumes will also be published separately during the following months.
New orchestra material of Bartók's Concerto for Orchestra released
22 lutego 2021
A new orchestra material of Béla Bartók's orchestral highlight, Concerto for Orchestra, composed in 1943 in the United States, is now available on hire. Concerto for Orchestra is the first orchestra material produced from the Béla Bartók Complete Critical Edition (BBCCE), a joint publication of G. Henle Verlag, Munich, and Editio Musica Budapest Zeneműkiadó. (The full score in the BBCCE and Henle's study score are also available on sale.)
In preparing this edition, the first edition, all compositional sources as well as the sound recordings made in Bartók's lifetime have been critically evaluated. The orchestra parts were carefully prepared in terms of accuracy, easy legibility, as well as sensible cues and page turns. The parts have been tested by the Hungarian National Philharmonic, a leading orchestra with a unique experience in playing Bartók. The conductor's score and the parts share the same big format (25×32.5 cm), and are printed on superior-quality paper.
One set includes two conductor's scores, 9-8-7-6-5 strings, 4 copies of percussion, and one copy of each of the remaining parts. The material is available on hire at Universal Music Publishing Editio Musica Budapest Ltd.
70 Years, 70 Scores
1 lipca 2020
Seventy years ago, the Hungarian State Music Publisher first opened its doors for business. In honor of this momentous anniversary, starting on July 1st and for the 70 days thereafter we will be sharing a different publication on our Facebook page - one to honor each year of publishing since 1950.
Virtual Musikmesse Publication Display
6 kwietnia 2020
Due to the many travel restrictions that are currently in place, Musikmesse Frankfurt 2020 has been canceled. As a result, we will not have the opportunity to present our newest publications in person as we normally would.
While this is unfortunate, worry not! We are working in close cooperation with our network of partners and music shop owners to make our new releases available to you as quickly and easily as possible.
As always, check here for the latest updates on our most recent publications - think of it as our virtual exhibition booth.
We will continue servicing all orders and doing all that we can to put great scores in your hands.
Announcing the release of Zoltán Kodály: Choral Works for Mixed Voices
14 grudnia 2018
Editio Musica Budapest is proud to announce the release of the extended and revised edition of Zoltán Kodály: Choral Works for Mixed Voices.
Seventy-five years after their first release, the time has come for Kodály's collected choral works for mixed voices to appear in a completely new, expanded edition. This collection contains six compositions that were not included in earlier editions. It is printed in a slightly larger format than previous editions and is available in a hardcover version as well as a softcover version for practical purposes. We whole-heartedly recommend the canvas-bound edition to libraries, collectors, and Kodály enthusiasts alike.
 This is the most complete and most authentic collection of Kodály's mixed choruses to date, and it contains new easily-legible music scores and an informative epilogue written by Péter Erdei.
More information on the publications can be found here.
Announcement
20 września 2017
Universal Music Publishing Group is pleased to announce that the printed music publishing and distribution business of its Hungarian affiliate Universal Music Publishing Editio Musica Budapest Zeneműkiadó Kft. has been transferred to a new entity, Editio Musica Budapest Zeneműkiadó Kft. EMBZ will be owned and managed by a group led by UMPEMB Director of Printed Music László Sigrai. Long-time UMPEMB Managing Director Antal Boronkay will also participate in the direction of EMBZ.
EMBZ will distribute all existing UMPEMB printed music products, and will work closely with UMPEMB to continue to develop new high-quality printed music products in both physical and digital form for the educational and performance markets. EMBZ will also continue to distribute sheet music products of other publishers.
For information, please contact:
For EMBZ: László Sigrai, sigrai­@­emb.hu, www.emb.hu
For UMPG: Tünde Szitha, szitha­@­emb.hu, www.umpemb.com
EMBrace music
24 marca 2015
Embrace Music — That is the motto we have adopted this year. In other words, we want to help you to make music an integral part of your life.
Music is all around us these days; it stimulates us more intensely and prevalently than ever before. But do we relate to it passively or actively? Are we merely consumers or makers of music as well?
We at EMB know that making music brings joy. That joy is multiplied and shared by playing to others. What's more, making music develops individual values, such as concentration, openness, sensitivity, collaboration, and concern for others.
Our aim is to allow as many people of all ages to experience the wonder and value of music.